Nourishes eyes, lips and cheeks while protecting from the effects of sunlight and dryness
Prevents Dark Circles & fine lines from forming
Anti-septic and anti-inflammatory for cuts and cuticles
---
---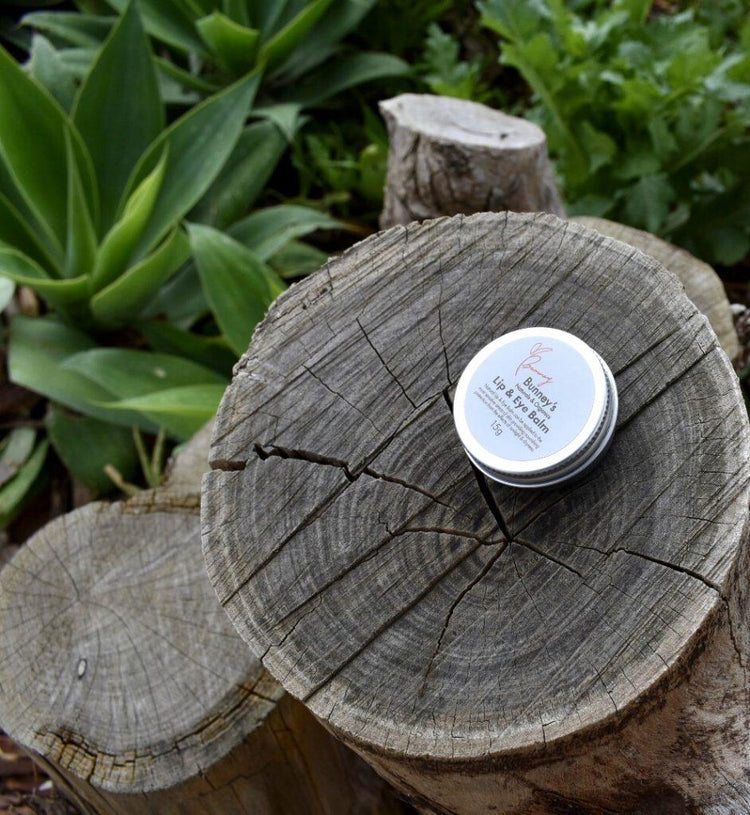 SUPERIOR QUALITY
I've tried many lip balms, many made my lips drier or they were VERY waxy, like a candle 🥺. Bunney Bu's product is far superior in quality! I don't need to reapply as often (usually after eating/drinking). Would highly recommend highly recommend this product 🙏
Rejuvenated eyes
The skin around my eyes was so dry & flaky. I used this product in the evening & it transformed my skin back to normal. It took about a week but the results are lasting if you apply regularly. I also use it on my lips & it keeps them very hydrated & smooth. A little goes a long way.
A good product
I think this product is great. Makes my lips feel incredible straight up. And the skin around my eyes looks much fresher after using it. But I think I'm noticing very healthy lashes when I apply it consistently too which is cool !
Eye and Lip Balm
This is my absolutely favourite eye balm. It's nourishes and protects whilst it keeps my eye area looking youthful without nasty chemicals.
Best Face Product
I love the lip and eye balm and use it all over my face, neck, and chest. Having had a terrible reaction to anti-aging creams in the past, this cream is a worry free alternative. As a bonus, it even nourishes the eyelashes.
Ingredients

Key Ingredients: Organic Caster and Avocado, Rose Geranium and Natural Vitamin E, Organic Shea and Cocoa Butter

Rich in natural source of vitamin E, organic herbal healing powers elevated through pure rosemary extract. Essential nutrients provide anti-bacterial, anti-fungal, anti-aging, anti-swelling for general and sensitive skin areas.

Full Ingredients List:

Beeswax, Organic Cocoa Butter, Organic Shea butter, Organic Coconut Oil, Avocado Oil, Organic Caster Oil, Organic Cocoa Powder, Organic Rosemary Extract, Vitamin E, Rose Geranium Essential Oil
Directions

Gently massage small amount on lip and eye area in circular upwards motion.
Our manufacturing Process
Handmade in Melbourne in a controlled hygenic dust free environment, UV and Ozone Medical grade Steriliser cleanses manufacturing equipment, utensils and containers prior to production.
Why Choose Bunney's
Reduces aging signs from the most sensitive areas of the eyes
Natural anti-bacterial and anti-inflammatory soothes and cleans open cuts and insect bites
Heals sunburn, cuticles, household burns
Provents loss of moisture and nutrients
Long lasting protection
Safe to use on children
Handmade in Melbourne
Skin problems be-gone!


"It is great to see that Bunney's products only use ingredients that are contributing to better skin. I am a big fan and highly recommend these products."
"It's the most incredible feeling, both physically and emotionally. The relief is mind blowing!  I highly recommend – you have nothing to lose, and absolutely everything to gain."
"Thank you, Bunney, you have changed my life!"
"Thank u Bunney! YOU ARE SUCH A LIFE SAVER & GAME CHANGER!"
You can't judge a book by it's cover!  The unassuming packaging uncovers a great product made with love.
Bought a face wash and daily face cream at the Queen Victoria markets on my last visit from Sydney (2 months ago). The products have been great. Will reorder soon. This is the only cream that hasn't given me pimples and I have been using it everyday. A little goes a long way.
Amazing! I recently bought the healing face mask from the mind body and spirit festival and it's so effective yet gentle I could use it daily. I'll definitely be buying it again and trying out other products too