Hair Regrowth | Bundle
Wishlist
Regular price

$35.00

Sale price

$33.00
Revitalizing Cream Conditioner & Natural Cleanser Body, Hair and Face
Natural Cream Conditioner enhances hair PH level, stimulates hair growth, creates nourished, silky strong shiny hair.
---
---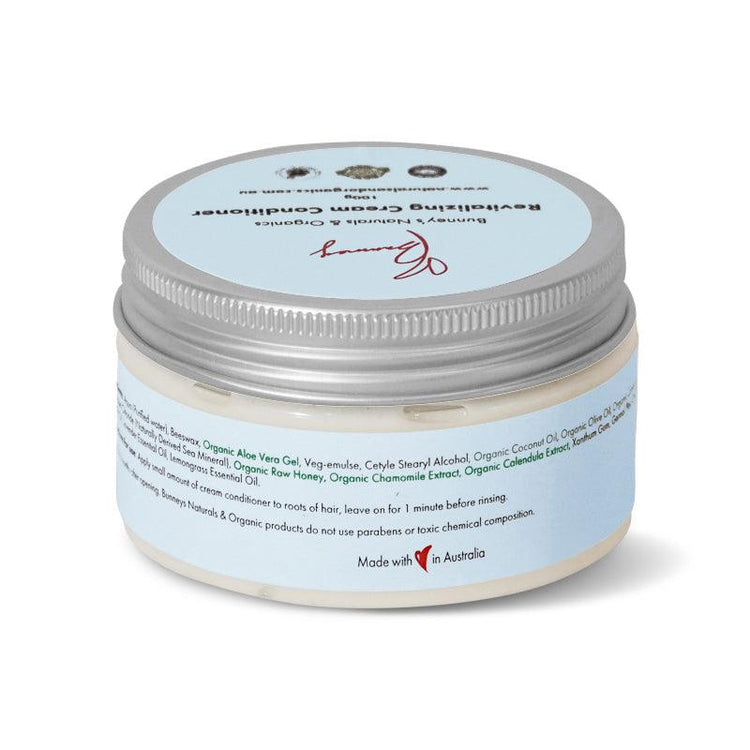 Love it.
I must say I was a little bit skeptical with this product. As like many people, we all have our favourite brands for hair care, and of course they all make their own claims.
But on using this product, my hair feels so clean and refreshed, fragrance is edible if you know what I mean. And I feel revived, you have to try this, its awesome.
I am converted.
Another great product
Think I have everything product of Bunneys now. Cost effective, natural and they work. I have gifted many products and referred anyone that will listen.
I love these products they've made my hair feel so refreshed and silky and it doesn't make my hair knotty. Plus they also smell soo good
Ingredients

Natural Cleanser For Body, Hair & Face:

Key Ingredients: Food Grade Magnesium, Organic Aloe Vera, Organic Lavender, Tea Tree, Grapefruit, Ylang Ylang, Bergamot and Patchouli

Food grade magnesium contributes to increased effectiveness of hair root metabolism enhancing natural hair growth and strengthening hair ends. Anti-bacterial, anti-fungal qualities combat sculp bacteria. Organic Chamomile, Calendula extract Organic Green Tea extract calm irritations, repair skin damage and swelling. Tea Tree essential oil, Grapefruit and ylang ylang are natural agents for calming irritations and soothing surface blemishes.

Full Ingredients List:

Aqua (Purified Water), Organic Green Tea Extract, Organic Raw Honey, Organic Coconut Oil, Food Grade Magnesium Chloride (Naturally Derived Sea Mineral), Natural Arrowroot Powder, Xanthan Gum, Aloe Vera, Coco Betaine (Coconut Derived), Sodium Lauroyl Sarcosinate (Naturally Derived), Glyceryl Cocoate (Coconut Derived), Glycerine (Naturally Derived), Olive Easter (Derived from Olives), Potassium Citriate (Citric Acid), Potassium Oleate (Organic Cleanser from Sunflower Oil), Potassium Cocoate (Organic Cleanser from Coconut), Himalayan Pink Salt, Germall Plus, Lavendar Essential Oil, Tea Tree Essential Oil, Grapefruit Essential Oil, Patchouli Essential Oil, Bergamot Essential Oil, Organic Lemon Myrtle, Organic Ylang Ylang Essential Oil

Revitalising Cream Conditioner

Key Ingredients: Food Grade Magnesium, Organic Raw Honey, Calendula, Lavender and Lemongrass

Rich volumes of vitamin E and anti-inflammatory, anti-bacterial natural ingredients deeply moisturise. Organic shea butter, organic olive oil, organic coconut oil, local Australian honey, Lavender, Lemongrass and Ylang Ylang, strengthens, cleanses and purifies hair and root pores. Developed for convenient application as shower hair conditioner or as hair serum application during the day. Can be used on all skin types and left in over night for natural healthy hair roots and hair ends treatment.

Full Ingredients List:

Aqua (Purified water), Organic Aloe Vera, Veg-emulse (Natural Vegetable Source), Cetyle Stearyl Alcohol(Natural Vegetable Source), Organic Coconut Oil, Organic Olive Oil, Organic Canola Oil, Organic Shea Butter, Food Grade Magnesium Chloride (Naturally Derived Sea Mineral), Organic Raw Honey, Organic Chamomile Extract, Organic Calendula Extract, Xanthum Gum, Germal Plus, Citric Acid, Organic Ylang Ylang Essential Oil, Lavender Essential Oil, Lemongrass Essential Oil
Directions

Apply small amount of cream conditioner to roots of hair, leave on for 1 minute before rinsing.
Our manufacturing Process
Handmade in Melbourne in a controlled hygenic dust free environment, UV and Ozone Medical grade Steriliser cleanses manufacturing equipment, utensils and containers prior to production.
Why Choose Bunney's
Natural food grade magnesium base
Pure Natural Essential Oils and Native Australian Essentail oils
Non scilicon based Cleanser
Promotes healthy Hair growth naturally
Long lasting cleanser, effective for long hair applying small amounts
Safe to use on children
Handmade in Melbourne
Skin problems be-gone!


"It is great to see that Bunney's products only use ingredients that are contributing to better skin. I am a big fan and highly recommend these products."
"It's the most incredible feeling, both physically and emotionally. The relief is mind blowing!  I highly recommend – you have nothing to lose, and absolutely everything to gain."
"Thank you, Bunney, you have changed my life!"
"Thank u Bunney! YOU ARE SUCH A LIFE SAVER & GAME CHANGER!"
You can't judge a book by it's cover!  The unassuming packaging uncovers a great product made with love.
Bought a face wash and daily face cream at the Queen Victoria markets on my last visit from Sydney (2 months ago). The products have been great. Will reorder soon. This is the only cream that hasn't given me pimples and I have been using it everyday. A little goes a long way.
Amazing! I recently bought the healing face mask from the mind body and spirit festival and it's so effective yet gentle I could use it daily. I'll definitely be buying it again and trying out other products too