Calming Zinc Cream
Wishlist
Nutrients penetrate deeper layers of skin protecting against effects of UV A and B
Hydrates and nourishes, rejuvenates to radiant skin
Provides strong anti-inflammatory treatment for inflammed skin conditions including acne, ezema, sun, wind and general burns.
Prevents loss of nutrients and Moisture
---
---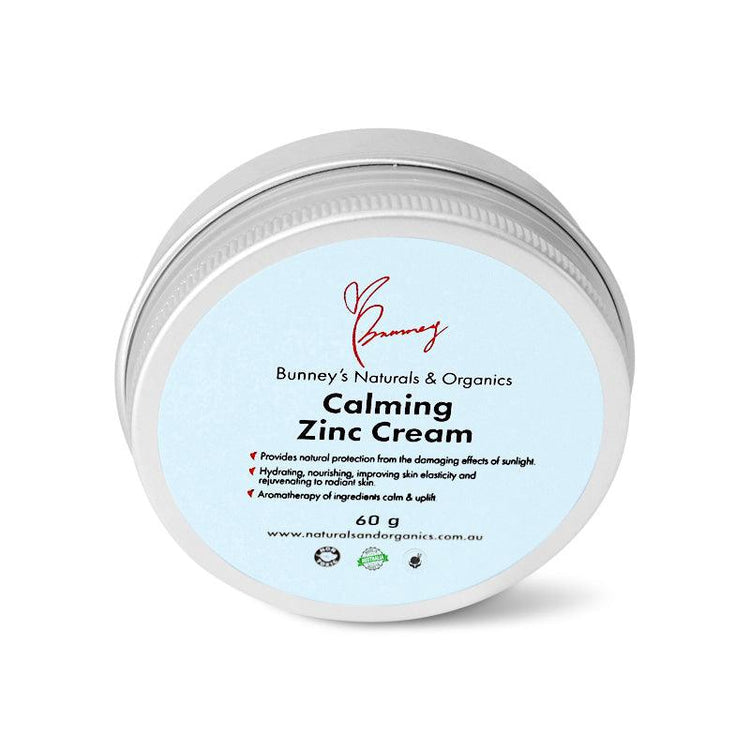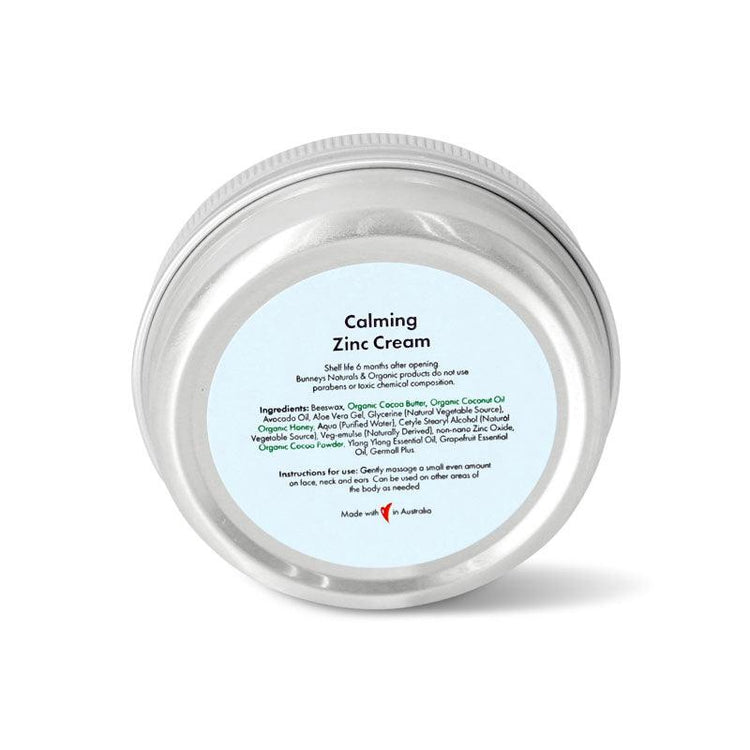 Fabulous!
I've found my new favourite cream! This has been brilliant to wear during the day as sun protection, with none of the streaky or greasy sunscreen look. It's also been perfect as a night cream, and great for oil control overnight.
The very best healing cream
I have been super thrilled by the results of Bunney's Calming Zinc Cream. This cream has soothed my skin and cleared up my acne scars. Thank you so much for helping my skin heal ! It has taken me many years to find the right product and I believe I have found the one !
Zinc Cream
I'm a fan of the zinc cream, as it protects and the tint gives a subtle coverage. I love the healing properties and really feel I'm treating my skin when I use it (usually over the lip and eye balm).
I'm new to Bunney's products but have already decided that I will continue to buy them. I love both the Nourishing Face Cream and the calming zinc cream. I find the using the Calming Zinc Cream leaves a lovely smooth texture to my skin.
Recently my dog developed a "hot spot" and I decided to treat it with the Calming Zinc cream, it healed so quickly, drying the sores and preventing them from weeping. My dog was more than happy to have me apply the cream as it gave him such relief!
Such a great product, I use it in the morning then apply the nourishing face cream and apply it again at night, it's really helped clear my acne.
Ingredients

Key Ingredients: 20% Food-grade Zinc Oxide, Grapefruit, Organic Ylang Ylang and Patchouli

Food Grade Zinc Oxide is a natural sunscreen with anti-inflammatory and anti-bacterial benefits. Skin astringent agent helps skin tissue regeneration, regulates sebum production, heals open cuts and bacterial induced acne prone skin. The protection layer added from Calming Zinc Cream protects from UV during the day and from bacteria attacks through the night.

Full Ingredients List:

Aqua (Purified Water), Beeswax, Organic Cocoa Butter, Organic Coconut Oil, Avocado Oil, Aloe Vera Gel, Glycerine (Natural Vegetable Source), Organic Honey, Cetyle Stearyl Alcohol (Natural Vegetable Source), Veg-emulse (Naturally Derived), (FoodGrade) non-nano Zinc Oxide, Organic Cocoa Powder, Organic Ylang Ylang Essential Oil, Grapefruit Essential Oil, Patchouli Essential Oil, Germall Plus
Directions

Gently massage a small even amount on face, neck and ears. Can be used on other areas of the body as required.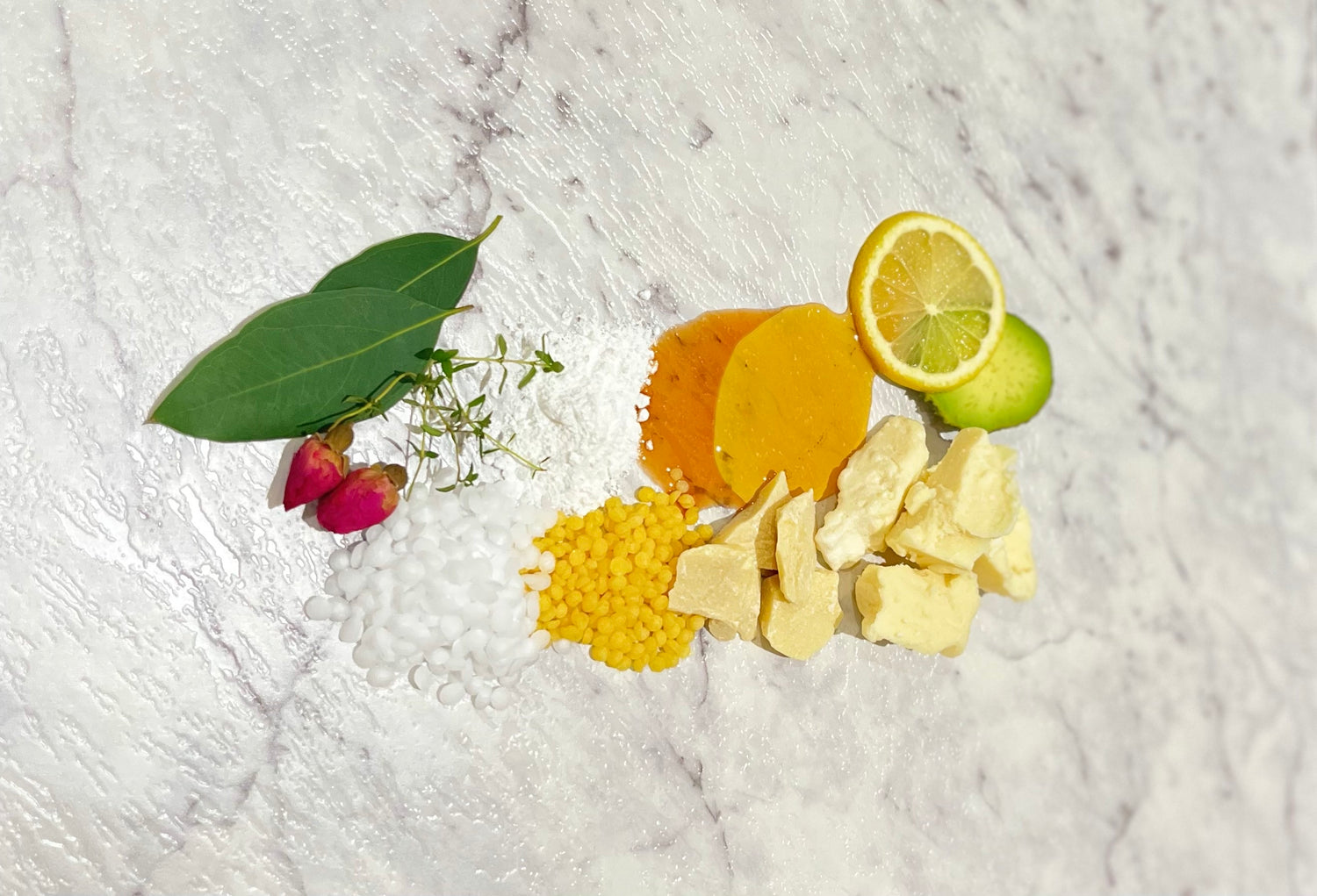 Our manufacturing Process
Handmade in Melbourne in a controlled hygenic dust free environment, UV and Ozone Medical grade Steriliser cleanses manufacturing equipment, utensils and containers prior to production.

The combination of our food grade zinc oxide, Grapefruit, Organic Yiang Yiang and Patchouli provides anti inflammatory benefits and a natural scent.
Why Choose Bunney's
Natural anti-inflammatory and anti-bacterial qualities
Balances natural oil production
Provents loss of moisture and nutrients
Easy absorbtion, non sticky, restores moisture
Protects from UV during the day and from bacteria attacks through the night.
Safe to use on children
Handmade in Melbourne
Skin problems be-gone!


"It is great to see that Bunney's products only use ingredients that are contributing to better skin. I am a big fan and highly recommend these products."
"It's the most incredible feeling, both physically and emotionally. The relief is mind blowing!  I highly recommend – you have nothing to lose, and absolutely everything to gain."
"Thank you, Bunney, you have changed my life!"
"Thank u Bunney! YOU ARE SUCH A LIFE SAVER & GAME CHANGER!"
You can't judge a book by it's cover!  The unassuming packaging uncovers a great product made with love.
Bought a face wash and daily face cream at the Queen Victoria markets on my last visit from Sydney (2 months ago). The products have been great. Will reorder soon. This is the only cream that hasn't given me pimples and I have been using it everyday. A little goes a long way.
Amazing! I recently bought the healing face mask from the mind body and spirit festival and it's so effective yet gentle I could use it daily. I'll definitely be buying it again and trying out other products too