Deep Cleansing Face Wash
Wishlist
Regular price

$24.00

Sale price

$18.00
Pure natural face wash with gentle exfoliating benefits.
Cleanses and nourishes deeper layers of skin cells.
Anti-inflammatory benefits reduce redness and irritation.
Balances skin natural PH level
---
---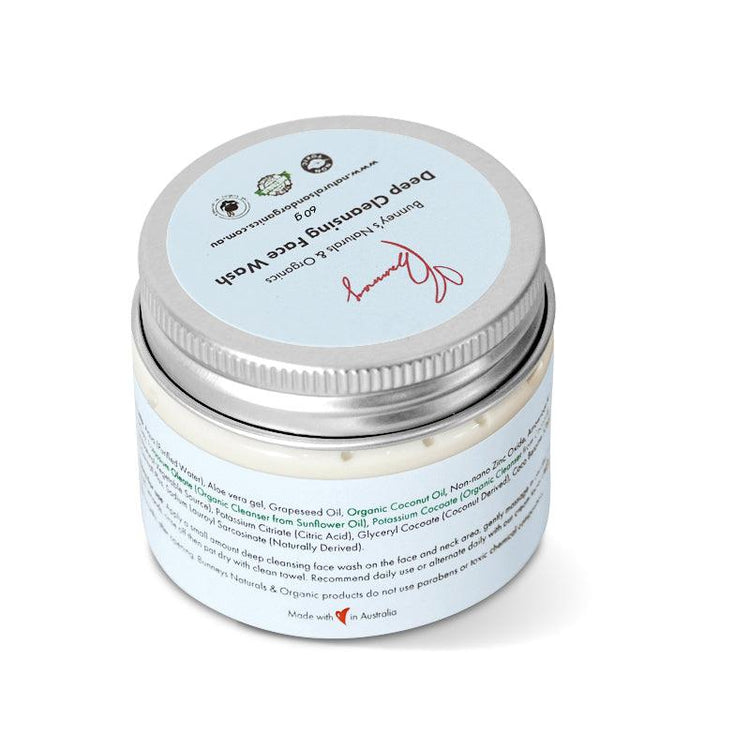 Loving it.
Have found this cleanser to be very gentle but thorough and refreshing on my skin. I follow it up with their moisteriser as well and found a huge improvement in skin tone and pores as well.
Fantastically Fabulous
An absolutely amazing product! I have to be so careful about what products I use and this one has been perfect. Soft and gentle on the skin, and easy to use. I can't recommend it enough.
Refreshing
I love the way my skin feels after using this product and it's such a refreshing feeling while on your skin
Happy teenager
My teenage daughter was suffering from bad acne and we had tried lots of different products but nothing was working. Then we discovered this face wash while at the Melbourne markets on holidays from WA.. It has made such a massive difference to her skin and given her more confidence in herself. We have since been ordering it since we returned home. I highly recommend this product!
Ingredients

Deep Cleansing Face Wash:

Key Ingredients: Food Grade Bentonite Clay, Aloe Vera, Food Grade Zinc Oxide, Natural Arrowroot, Organic Coconut and Grapeseed Oil

Food grade bentonite clay, aloe vera and zinc oxide, refills essential skin minerals, calms inflamed skin, deep cleanses removing bacteria and dead skincells. Organic Coconut oil and light grapeseed oil gently moisturises.

Full Ingredients List:

Aqua (Purified Water), Organic Aloe vera, Grapeseed Oil, Organic Coconut Oil, (Food grade) Non-nano Zinc Oxide, Natural Arrowroot Powder, Organic Bentonite Clay, Potassium Oleate (Organic Cleanser from Sunflower Oil), Potassium Cocoate (Organic Cleanser from Coconut), Glycerine (Natural Vegetable Source), Potassium Citriate (Citric Acid), Glyceryl Cocoate (Coconut Derived), Coco Betaine (Coconut Derived), Sodium Lauroyl Sarcosinate (Naturally Derived), Germall Plus.
Directions

Apply a small amount to the face and neck area, gently massage in circular motion for 30 to 60 seconds, rinse off then pat dry with clean towel. Recommend daily use or alternate daily with Bunney's Gentle Cream Facial Cleanser.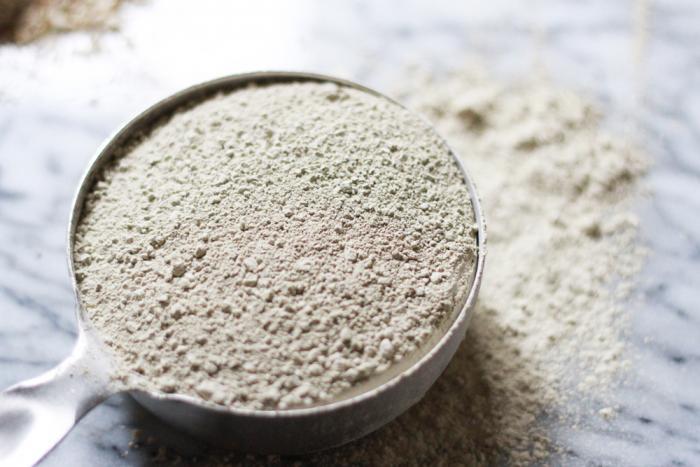 Our manufacturing Process
Handmade in Melbourne in a controlled hygenic dust free environment, UV and Ozone Medical grade Steriliser cleanses manufacturing equipment, utensils and containers prior to production.
Why Choose Bunney's
Natural food grade Bentonite Clay
Fresh cleansing without chemicals that clog pores
Food Grade Zinc Oxide provide anti-inflammatory agents without stripping natural facial oils
Clears acne, blackheads and white heads without using harsh chemicals
Strengthens skin cells resistance to bacteria attacks.
Deveolps bright acne resistant skin.
Handmade in Melbourne
Skin problems be-gone!


"It is great to see that Bunney's products only use ingredients that are contributing to better skin. I am a big fan and highly recommend these products."
"It's the most incredible feeling, both physically and emotionally. The relief is mind blowing!  I highly recommend – you have nothing to lose, and absolutely everything to gain."
"Thank you, Bunney, you have changed my life!"
"Thank u Bunney! YOU ARE SUCH A LIFE SAVER & GAME CHANGER!"
You can't judge a book by it's cover!  The unassuming packaging uncovers a great product made with love.
Bought a face wash and daily face cream at the Queen Victoria markets on my last visit from Sydney (2 months ago). The products have been great. Will reorder soon. This is the only cream that hasn't given me pimples and I have been using it everyday. A little goes a long way.
Amazing! I recently bought the healing face mask from the mind body and spirit festival and it's so effective yet gentle I could use it daily. I'll definitely be buying it again and trying out other products too