Edible Lipsticks – Love My Kiss
Wishlist
Coloured by Australian Pink Clay and natural Mica
Rejuvenates new skin cells
Enhances plump lips while nourishing and protecting from UV and Bacterial attacks
Enhances Natural lipcolour to full coverage through application
---
---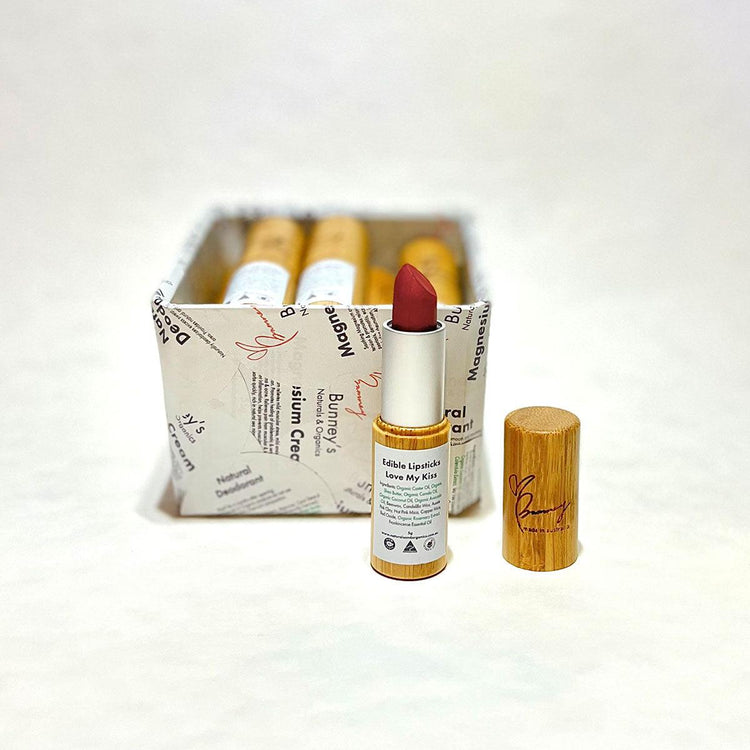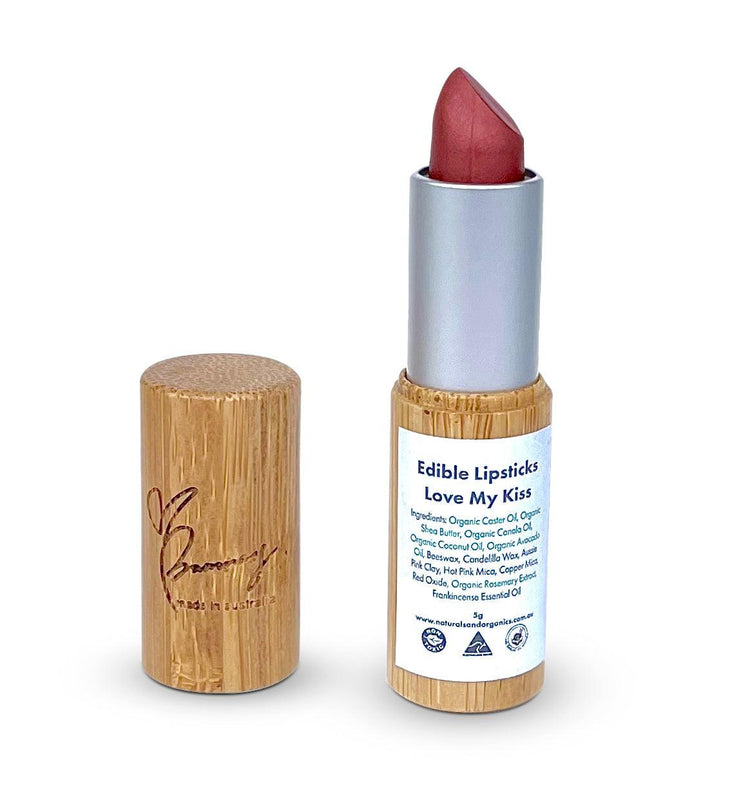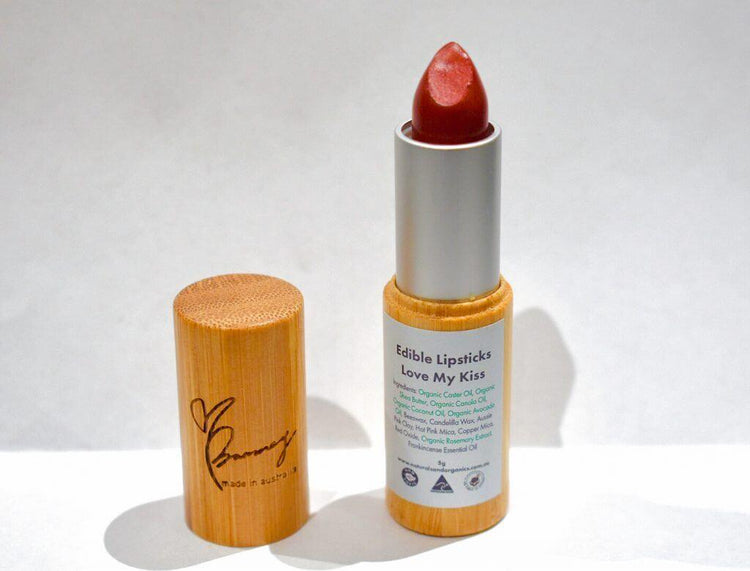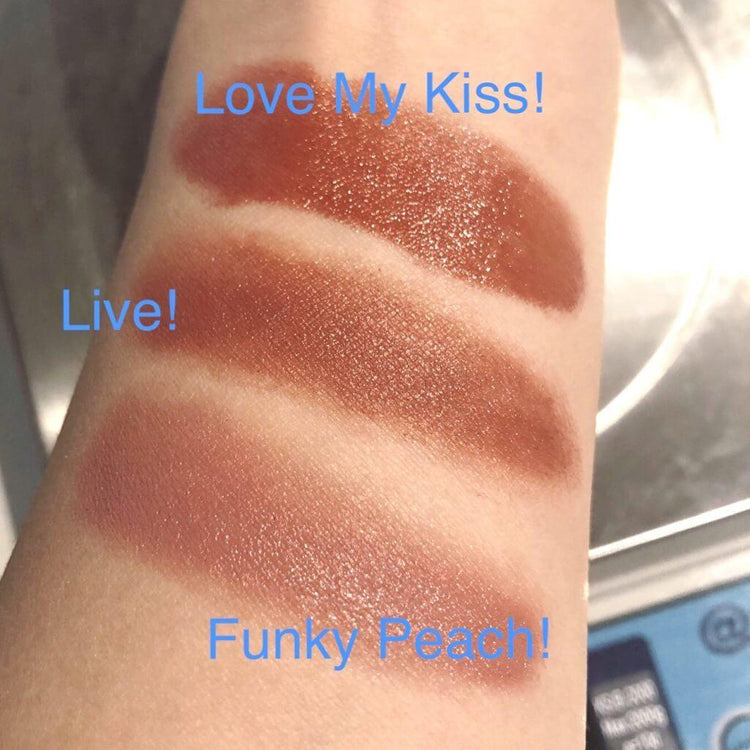 Perfect formula
This lipstick has the perfect formula. It feels great on, it's hydrating but not like a greasy lip gloss. It's not matte either, but has a really nice creamy texture & consistency. It feels light on the lips but delivers with pigmented colour. The colour is buildable & i like it as a lip stain effect, i just dab a bit onto my lips & it gives a nice natural tint.
I would love to see a plum based red for olive skin tones in the future.
Love My Kiss lipstick
This is the second lipstick I have bought from Bunney because they moisturise my lips well. This colour looks very bright but you can apply just a small amount for a more natural look. It tones in well with the slight yellow tone of my skin skin.
Ingredients

Key Ingredients: Organic Cocoa Butter, Natural Micas, Australian Pink Clay, Frankincense and Natural Vitamin E

Coloured from Australian Pink Clay and natural mica, UV A and B protection natural Sunscreen. Organic Cocoa Butter provides natural skin protection.

Frankinscen essential oil enhances natural glow. Organic Avocado, Organic Caster oil and Vitamin E nourish and rejuvenate skin cells.

Full Ingredients List:

Organic Caster Oil, Organic Shea Butter, Organic Canola Oil, Organic Coconut Oil, Organic Avocado Oil, Beeswax, Candelilla Wax, Aussie Pink Clay, Hot Pink Mica, Copper Mica, Red Oxide, Natural Vitamin E, Frankincense Essential Oil
Directions

Apply 2-3 layers, mix for colour changes, multiple layers provides long lasting effect. For long wearing in weathered conditions apply a thin layer of Calming Zinc Cream on lips prior to use.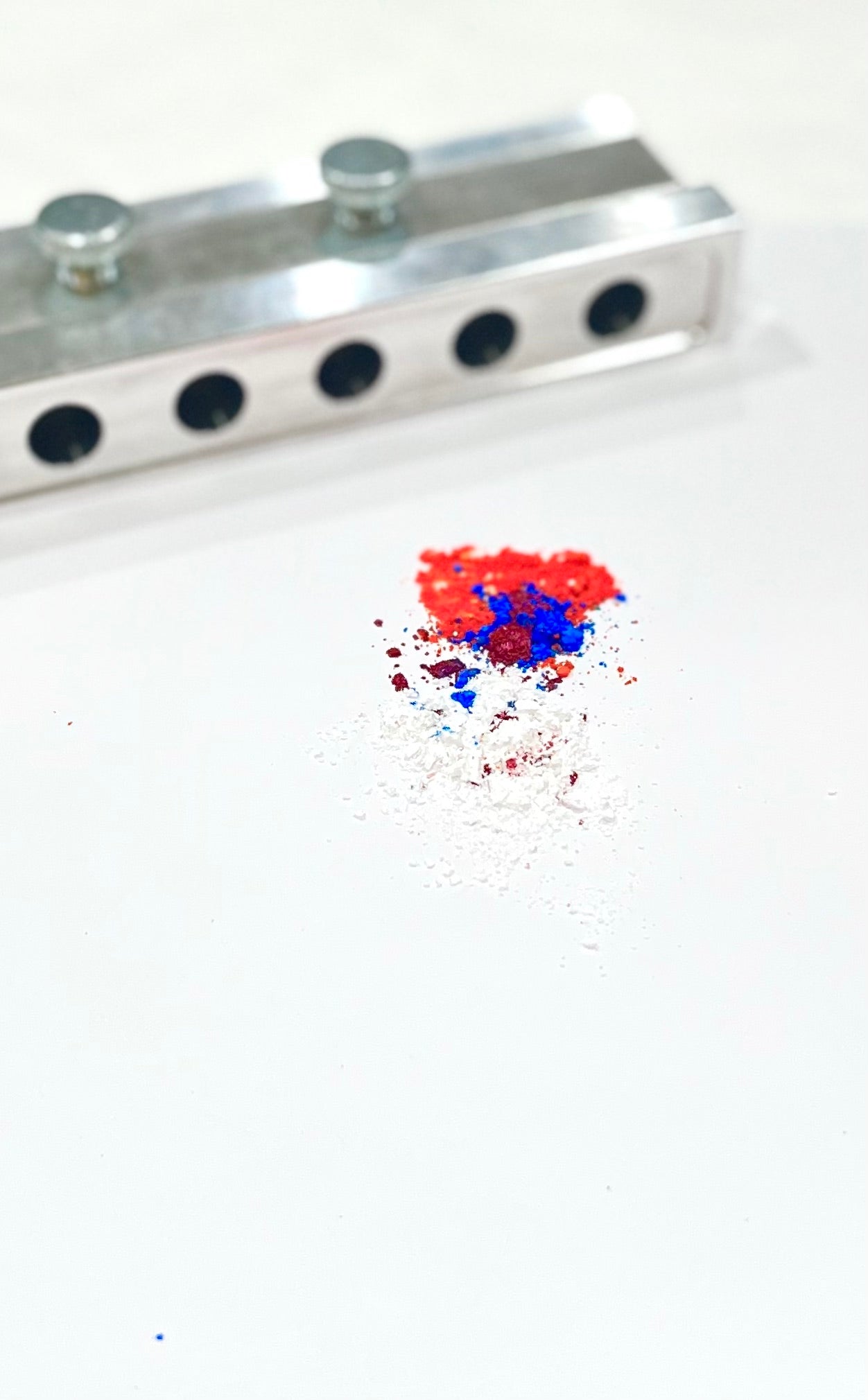 Our manufacturing Process
Handmade in Melbourne in a controlled hygenic dust free environment, UV and Ozone Medical grade Steriliser cleanses manufacturing equipment, utensils and containers prior to production.
Why Choose Bunney's
Deeply Moisturising
UV protection
Long lasting
Non-bleeding, no sunthetic ingredients
Protects and nourishes lips, cheeks and is safe on the eyes
Can apply on Cheek and as eye shadow
Safe to use on children
Handmade in Melbourne
Skin problems be-gone!


"It is great to see that Bunney's products only use ingredients that are contributing to better skin. I am a big fan and highly recommend these products."
"It's the most incredible feeling, both physically and emotionally. The relief is mind blowing!  I highly recommend – you have nothing to lose, and absolutely everything to gain."
"Thank you, Bunney, you have changed my life!"
"Thank u Bunney! YOU ARE SUCH A LIFE SAVER & GAME CHANGER!"
You can't judge a book by it's cover!  The unassuming packaging uncovers a great product made with love.
Bought a face wash and daily face cream at the Queen Victoria markets on my last visit from Sydney (2 months ago). The products have been great. Will reorder soon. This is the only cream that hasn't given me pimples and I have been using it everyday. A little goes a long way.
Amazing! I recently bought the healing face mask from the mind body and spirit festival and it's so effective yet gentle I could use it daily. I'll definitely be buying it again and trying out other products too