Healing Facial Mask
Wishlist
Suitable for all skin types, Natural Australian minerals nourish and cleanse deeper layers of skin
Balances and restores Skin PH level, reduces redness, irritations, dark circles
Cleans and clears Acne, black heads and white heads, general surface blemishes
Improves skin elasticity, brightens and rejuvenates Deeper layer skin collagen reproduction
---
---
Amazing
I've only been using this mask for about 4 weeks now and I was amazed to see that my skin looked so much brighter and the redness go down. I've been using it about two to three times a week and I love it, it's definitely becoming permanent step in my skincare routine every week.
Ingredients

Australian Pink Clay, Organic Green Tea Powder, Raw Honey, Organic Hemp Seed Oil, Lavender, Grapefruit and Lemongrass

Autralian Pink Clay and Organic Green tea naturally brightens skin, thoroughly cleanses deeper layers of grease, dirt and reboots skin collagen reproduction.

Rich in mineral nutrients including Organic Raw Honey. Organic Hemp Oil that naturally brightens skin and provide anti-inflammatory benefits. Lavendar, lemongrass and grapefruit essential oil provide antiseptic and anti-bacterial benefits.
Directions

Apply a moderate quantity, gently massage in circular motion spreading a thin layer on face and neck areas. Leave on for 3 to 5 mins then rinse off with water or wipe of with a damp cloth or rinse using frozen fruits. For addittional skin revitalising apply Bunney's Nourishing Face Cream.


When applied with Gentle Cream Facial Cleanser at night and Deep Cleansing Face Wash in the morning, No exfoliation is required. Apply twice weekly to for facial skin cleansing and nourishing or daily for pristine skin management.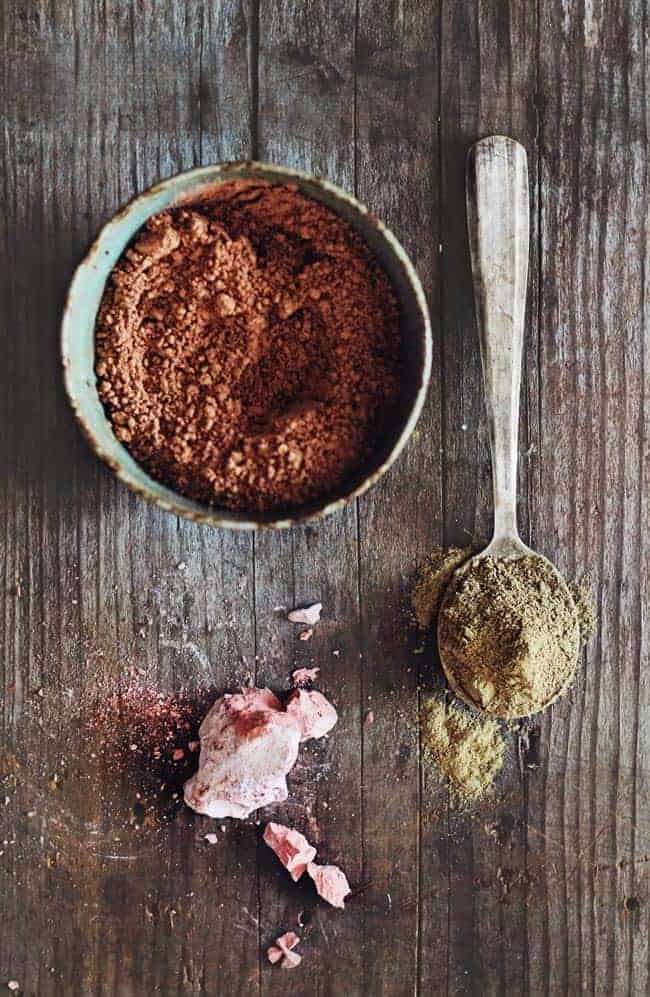 Our manufacturing Process
Handmade in Melbourne in a controlled hygenic dust free environment, UV and Ozone Medical grade Steriliser cleanses manufacturing equipment, utensils and containers prior to production.
Why Choose Bunney's
Organic Green Tea and Australian Pink Clay Mask
Natural anti-inflammatory and anti-bacterial properties while gentle on skin
Reduces signs of aging by removing deeper skin tissue toxins
Brightens skin colour and reduces discolouration
Long lasting
Handmade in Melbourne
Skin problems be-gone!


"It is great to see that Bunney's products only use ingredients that are contributing to better skin. I am a big fan and highly recommend these products."
"It's the most incredible feeling, both physically and emotionally. The relief is mind blowing!  I highly recommend – you have nothing to lose, and absolutely everything to gain."
"Thank you, Bunney, you have changed my life!"
"Thank u Bunney! YOU ARE SUCH A LIFE SAVER & GAME CHANGER!"
You can't judge a book by it's cover!  The unassuming packaging uncovers a great product made with love.
Bought a face wash and daily face cream at the Queen Victoria markets on my last visit from Sydney (2 months ago). The products have been great. Will reorder soon. This is the only cream that hasn't given me pimples and I have been using it everyday. A little goes a long way.
Amazing! I recently bought the healing face mask from the mind body and spirit festival and it's so effective yet gentle I could use it daily. I'll definitely be buying it again and trying out other products too