Bunney's MagnesiumCream are handcrafted in Melbourne, both include a high volume of fasterabsorbing food grade magnesium.
Rich in sea minerals, relieves migraines, muscle pain, cramps and strengthens bones
Calms nervous tension, mild anxiety, boosts energy, promotes a healthy heart
Contributes to preventing asthmatic conditions, constipation, good bladder function and healthy sleep
Measured volumes of mineral magnesium promote healthy natural skin and hair
Great for sensitive skin and muscles.
---
---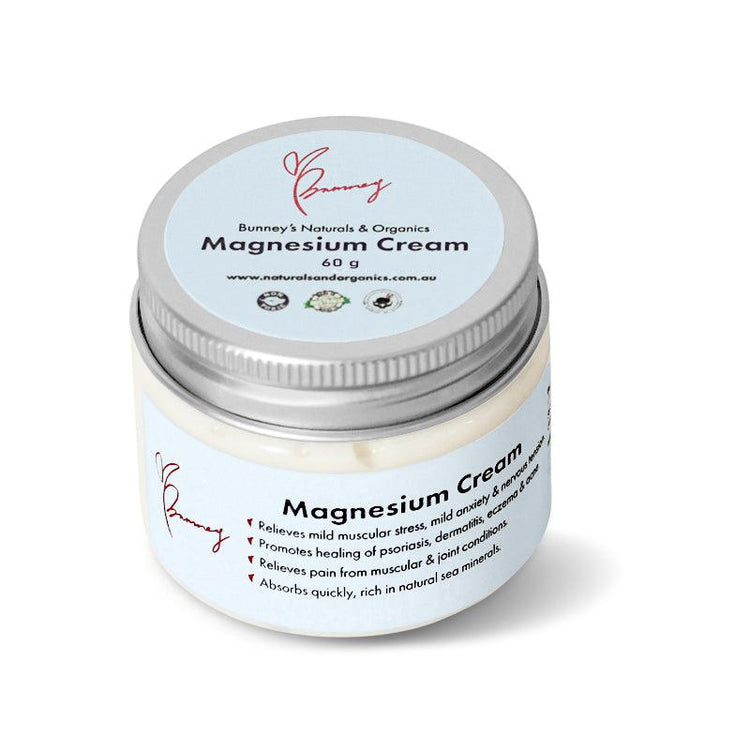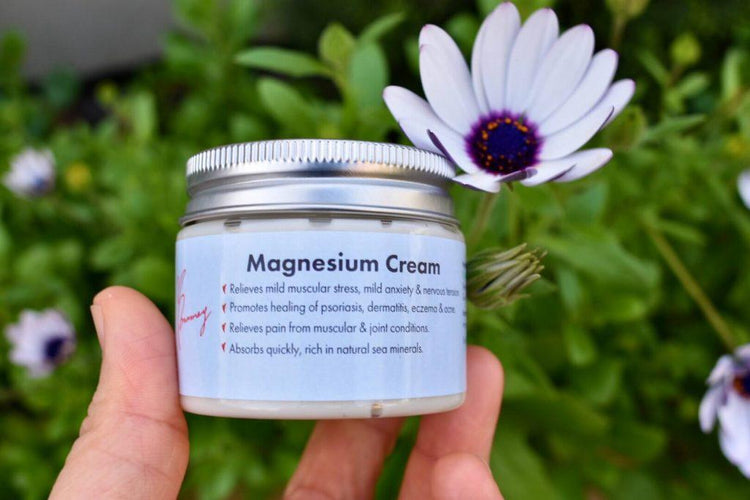 I Love this product.
To have such a succesful product you need a dedicated team behind it.
This in turn produces such a marvellous product made with love.
How do you beat this I don't know, but I will be buying this until the end of my time.
The Ultimate Multitasker
I love this magnesium cream. It has relieved my aching neck and shoulders. Works even better in combination with Bunney's Magnesium Oil. I work in a hospital so have to wear face masks during my work day, I was getting dermatitis from the constant mask wearing and this cream has really helped to clear this up. Highly recommend Bunney's products and I will remain a repeat customer.
Pain Relief & Healing
I love this cream for helping with my achy knees, especially before my period. It works great and I love that I know it's not just relieving pain, but helping to heal.
Little pot of gold
I decided to try this for my aching joints, half thinking "as if this will work". However after just 3 days my inflamed wrist tendon stopped hurting, to the point where I almost forgot that I had a problem with it, and then it dawned on me "wow this actually worked". I also use it on my ankles which tend to get stiff, and also after exercise.
Apparently, you can also use the cream for skin issues. I did try to use the cream on a break out area on my back I tend to get in winter and I haven't noticed much change, but to be fair I have not applied it consistently every day like I probably should, because its on my back I forget.
Product Ingredients

Key Ingredients:

Food Grade Magnesium, Natural Arnica, Organic Kunzea,
Wintergreen, Eucalyptus, Bergamot

A key ingredient in Bunney's magnesium cream is arnica to break down and relieve bruising and provide anti-inflammatory benefits.

Bunney's Magnesium Cream is developed using the finest of ingredients and can be used individually however we recommend to apply Magnesium Cream on top of magnesium oil.

This complimentary application contributes to fast absorption of these natural ingredients, maximizes the calming of muscles and skin, anti-inflammatory and bruise recovery.

This is due to the a key ingredientof arnica in Bunney's Magnesium cream which breaks down and relieves bruising and provide anti-inflammatory benefits.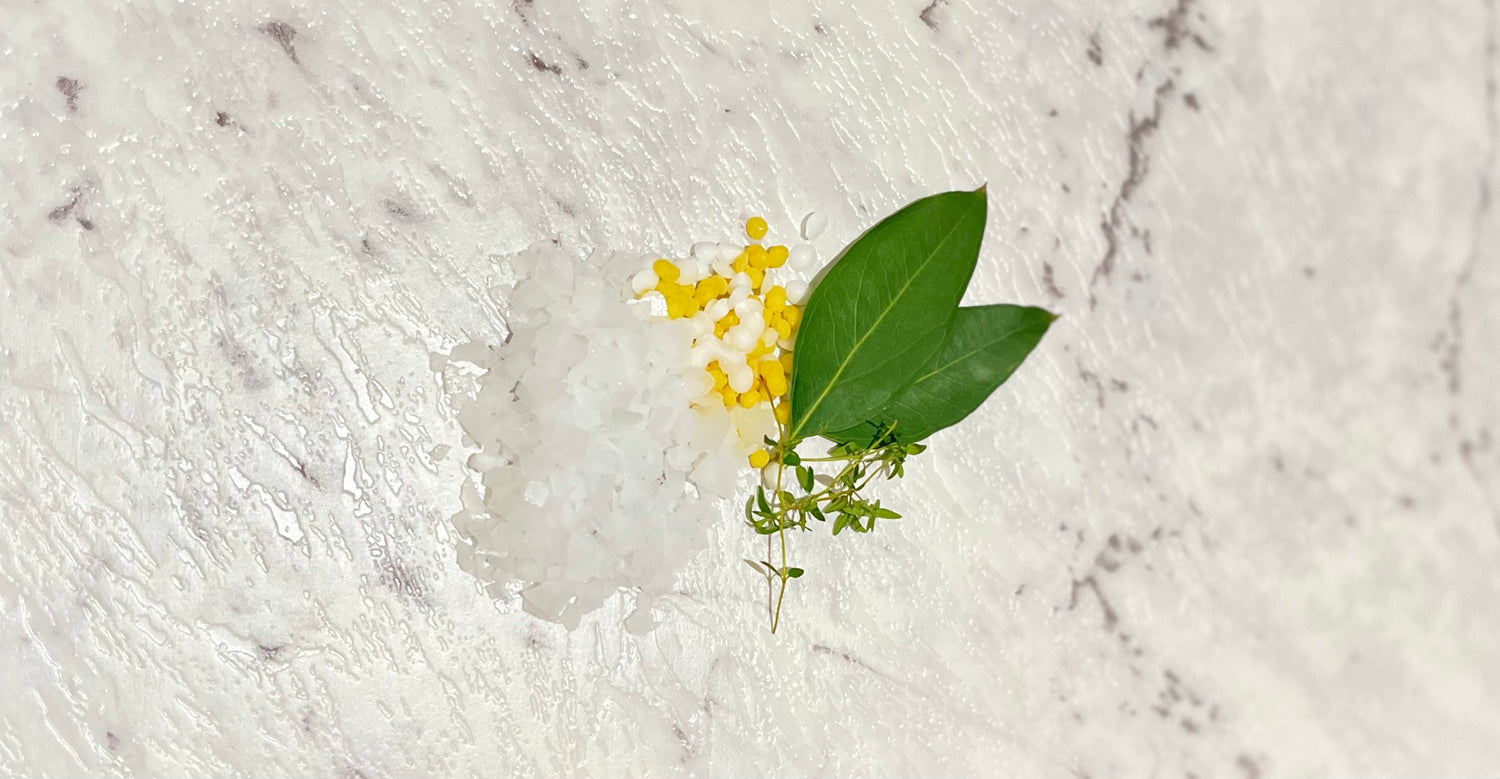 Why Choose Bunney's
Natural food grade magnesium mineral
Pure Natural Essential Oils and Native Australian Essentail oils
Maximum dosage of food grade Magnesium applied within both Magnesium Oil and Cream
Fast natural absorption
Handmade in Melbourne
You can trustour highly controlled manufacturing process
Handmade in Melbourne in a controlled hygenic dust free environment, UV and Ozone Medical grade Steriliser cleanses manufacturing equipment, utensils and containers prior to production.
The emulsifying process of Natural oils and extract, food grade magnesium flakes takes hours, requires cooling while thoroughly breaking down ingredient particles using leading Silverson mixing equipment. Resulting in the smoothest of texture, the highest quality of magnesium cream to meet your needs.
Skin problems be-gone!


"It is great to see that Bunney's products only use ingredients that are contributing to better skin. I am a big fan and highly recommend these products."
"It's the most incredible feeling, both physically and emotionally. The relief is mind blowing!  I highly recommend – you have nothing to lose, and absolutely everything to gain."
"Thank you, Bunney, you have changed my life!"
"Thank u Bunney! YOU ARE SUCH A LIFE SAVER & GAME CHANGER!"
You can't judge a book by it's cover!  The unassuming packaging uncovers a great product made with love.
Bought a face wash and daily face cream at the Queen Victoria markets on my last visit from Sydney (2 months ago). The products have been great. Will reorder soon. This is the only cream that hasn't given me pimples and I have been using it everyday. A little goes a long way.
Amazing! I recently bought the healing face mask from the mind body and spirit festival and it's so effective yet gentle I could use it daily. I'll definitely be buying it again and trying out other products too